E-COMMERCE WEBSITES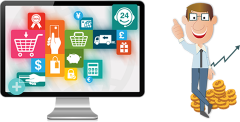 An e-commerce website is simply a website that allows for purchasing of products or services online.
E-commerce sites, like any other site, need to bring in revenue for the owner. Measuring that on an e-commerce site is very simple - it's simply how many sales are made. So, the name of the game in e-commerce is of course making more sales.
However, companies have also begun to notice that online sales alone are not the only measurement of success in e-commerce. In fact, studies have shown that e-commerce websites actually drive more sales in bricks-and-mortar shops as well. Customers now frequently research and review products online before purchasing in store. If you products are not online, or are not displayed online well - your customers will simply go elsewhere.
Regroup Media has built many e-commerce websites and understands what factors are important to obtain a good conversion rate and loyal customers.
SPECIFIC FACTORS TO CONSIDER FOR E-COMMERCE SITES
In general, an E-commerce Project with Regroup Media follows the same process as other website design and build projects. However, there are some unique factors we analyse and review with you:
Which payment gateway is right for you?
How to integrate and use your payment gateway as well as PayPal?
What are the various shipping mechanisms we can implement and which is right for you?
How can we integrate reviews, social media and other conversion boosting factors into your design?
We discuss the importance of good product images and assist you obtaining a photographer if required.
We discuss promotions, coupons and the various ways to implement specials and how that can provide a tremendous boost to sales.
Logistics like SSL, guest checkout, one-page checkout options, etc...
Creating segmented customer groups such as wholesale customers or loyalty discounted customers
Reporting and measuring success
Etc...
In short, setting up an e-commerce site take a lot of planning and logisitics - and Create Studios can help you every step of the way. If you have an e-commerce project in mind, contact Regroup Media and we can review it with you.